ISO 22000:2018 Food Safety Management System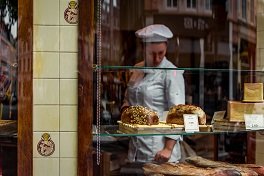 Brain Elite Consultants Sdn. Bhd. provides consultancy in ISO 22000 Food Safety Management Systems. The ISO 22000 is applicable to all types and sizes of Food Chain related organizations. However, the practicing methods of the requirements may differ from one organization to another. ISO 22000 requires a development of the HACCP [Hazard Analysis Critical Control Point] plan that enables the user to identify critical food safety monitoring checkpoints. Food Safety Expertise is needed to effectively conduct the HACCP Plan.
Brain Elite Consultants Sdn. Bhd. has her own Food Safety expertise to provide ISO 22000 consultancy services. The consultancy service shall be based on a Customer-Focus Basis to fulfill and satisfy the different needs of different customers.
The types of services related to ISO 22000 Food Safety Management System includes, but are not limited to:
| | | |
| --- | --- | --- |
| i. | | ISO 22000 System Setup |
| ii. | | Monthly Maintenance Services |
| iii. | | Internal Audit Services |
| iv. | | Trainings |